A Better Way Forward?
Perhaps a better way to consider MIDLIFE is through the aforementioned lens of "elements of organizational influence," which are Military, Information, Diplomatic, Legal, Identity, Financial, and Economic. As with previous evolutions of the MIDLIFE model, the order of the elements is not indicative of their relative ranking. Indeed, any attempt to prioritize the elements would be an exercise in futility, as diplomacy is useless without an effective military to protect it and the rule of law to govern it; a military is not effective without information; finance and economics both depend upon and provide the foundation for a successful organization, and identity has the ability to affect all of the other elements. Therefore, the elements of organizational influence in the updated MIDLIFE model are ordered as they are strictly as a mnemonic device to help remember all of the elements. A chart depicting the elements of organizational influence is below, followed by short descriptions of each element.
Military (M): Forces trained, equipped, and empowered by an organization to utilize force on its behalf. Used chiefly outside of an organization's home territory to act against other organizations, or within an organization's territory to provide internal security.
Information (I): The production, acquisition, and protection of information which can be used by an organization to achieve its aims, or against it if uncovered by an adversary.
Diplomatic (D): The means by which an organization seeks to advance its agenda or influence the agenda of others, through the use of negotiation.
Legal (L): The means by which organizations utilize law enforcement and legal systems to influence things like trade, politics, and security, and the means by which organizations seek to protect themselves against the legal maneuverings of others.
Identity (I2): Individual characteristics such as religion, race, ethnicity, gender, political party, and ideology, appointed by nature, society, or individual choice, which set individuals apart or bring them together for a specific purpose.
Financial (F): The acquisition, management, expenditure, and protection of funds necessary to operate an organization.
Economic (E): The medium of exchange for goods and services.
A logical question about the revised elements of MIDLIFE is, why these elements, and not others? Some would argue that some other instruments of organizational influence are lacking from the model; what about education, or industrial, or medical for example? Without a doubt, each of these is an important element within an organization. However, not every individual thing that could affect international affairs can or should be listed in a conceptual model, and the elements listed above are, arguably, the most significant in an international relations context. It is also important to recognize that not every organization will have access to, or even necessarily need, every element of organizational influence.  A hacker network, for example, will likely have no need of a military arm of any type. A traditional terrorist organization may have financial concerns, but none economically speaking. Nonetheless, other organizations can use other elements of national power asymmetrically against it; that same hacker network mentioned above may not have a military, but a powerful nation may use its military against it, or attack the hacker network through legal or financial means. Just because a particular nation or organization does not use a particular element, does not preclude others from using that same element against it. Western nations would do well to remember that, particularly with regard to identity.
In addition to the addition of the "identity" subcategory, astute readers will also recognize some other subtle changes in the new MIDLIFE construct. "Law enforcement" in the old model has given way to "legal" in the new. I felt this was appropriate because there are times when individuals and organizations utilize the legal system, but in which law enforcement never gets involved.  However, law enforcement cannot operate outside of a legal infrastructure; therefore law enforcement is part of the legal system, and it is therefore more appropriate to use the latter term over the former. I also chose to eliminate "intelligence" from the legacy model. As a career professional intelligence officer, I am well aware that "information" is not the same as "intelligence." However, in an international relations context, I see intelligence as a subset of information. Simply put, one can have information that is not always intelligence, but one can never have intelligence that isn't also information.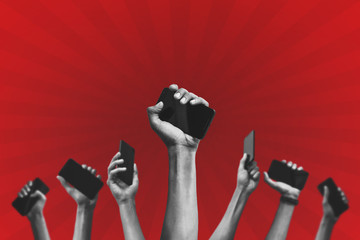 So that's a rundown on the new "elements of organizational influence," which I see as a potential improvement on the current MIDLIFE model. As an example that ties all of this together, now consider the commander of one of the U.S. Army's new Security Force Assistance Brigades (SFABs) on a fictional assignment to a country in central Africa. Armed with a thorough understanding of the MIDLIFE elements of organizational influence, especially when it comes to the prominent role of "identity," the commander and his staff will be able to identify, understand, embrace, and exploit all of the elements that are likely to impact, not just the ones that are familiar or comfortable. They will use their military force (M) when necessary, of course, but it will be tempered by considerations of the political impact (D) at the tactical, operational, and strategic levels. At the same time they will identify economic opportunities (E) and monetary flows (F), They will engage with local economic, military, political, religious, and thought leaders, and will also Information dominance (I) will enable all aspects of the model.
Conclusion
To succeed, we must integrate every dimension of our national strength, and we must compete with every instrument of our national power.[14] –President Donald Trump

Complex realities in international relations rarely fit neatly into conceptual theoretical models, but they can be refined in order to make them of best use to researchers and practitioners in the international relations field. While the current MIDLIFE construct and its related models are good start points to explore and understand international relations, it requires an update to reflect a post-9/11 world and the realities of the "network age." The MIDLIFE theory should be updated to acknowledge the role of non-state actors by replacing the outdated term "instruments of national power" with the more accurate term "elements of organizational influence" and specifically including both state and non-state actors.  MIDLIFE should also reflect evolving reality by changing some of the components of the model, such as "identity." A modernization of the MIDLIFE theory to reflect the above changes could produce a model much more useful to international relations researchers and practitioners and would help craft better—and perhaps more effective—U.S. grand strategy. This would be a great help both to the nation, and to those of us who are tasked with putting our national policies into practice.
As a final vignette, consider a political appointee named to a major foreign policy post by a new U.S. presidential administration. This individual was appointed based on her fundraising ability and political wasta, which may or may not have included any education or experience in national-level policy making. Nonetheless, by considering all of the elements of organizational influence (military, information, diplomatic, law enforcement, identity, finance, and economic)–and not just the ones that are easy or comfortable—she is able to help craft policy based on everything that the U.S. can bring to bear. She does not shy away from the use of non-state actors, and recognizes how adversaries might use non-state actors against the U.S. She embraces, rather than avoids, identity-based politics and influencers. And above all, she is neither over-reliant on the military element, nor is she afraid to recommend its use as required. And she In so doing, she facilitates the work done by the men and women in organizations like the State Department, USAID, Treasury, the FBI, the Intelligence Community, the military, and numerous other organizations that are out there on the figurative and literal front lines of US Grand Strategy.
---
[1]           U.S. President John F. Kennedy, "Remarks at Annapolis to the Graduating Class of the United States Naval Academy," June 7, 1961http://www.presidency.ucsb.edu/ws/?pid=8181
[2]           U.S. President George W. Bush, "9/11 Five Years Later:  Successes and Challenges," (Washington, D.C., National Security Council, 2005), VIII.
[3]           Catipon, Ronnie S., "Law Enforcement as an Instrument of National Power," The Foreign Service Journal, March 2017, http://www.afsa.org/law-enforcement-instrument-national-power
[4]           Secretary of State Hillary Clinton, at her confirmation hearing, as quoted by Paul Lewis in The Guardian, 13 Jaunary 2009.  https://www.theguardian.com/world/2009/jan/13/hillary-clinton-confirmation-hearing-senate
[5]           J. Boone Bartholomees, Jr., The U.S. Army War College Guide to National Security Issues, Volume I, (U.S. Army War College, Carlisle Barracks, PA, 2010 ), 144.
[6]           U.S. President Barack Obama, National Security Strategy of the United States of America, (released by the White House, Washington, D.C., May 2010), 7.
[7]           John Robb, Brave New War:  The Next Stage of Terrorism and the End of Globalization, Hoboken, New Jersey, John Wiley & Sons, 2007), 4.
[8]           Kate Conger, "Google Plans Not to Renew Its Contract for Project Maven, a Controversial Pentagon Drone AI Imaging Program," Gizmodo, 1 June 2018.  https://gizmodo.com/google-plans-not-to-renew-its-contract-for-project-mave-1826488620?rev=1527878336532&utm_campaign=socialflow_gizmodo_twitter&utm_source=gizmodo_twitter&utm_medium=socialflow
[9]           Ambassador Betty King, U.S. Ambassador to the U.N., "An Address at the Opening of the Global Challenges Forum," Geneva, Switzerland, 2010), 1.
[10]          U.S. Secretary of Defense Chuck Hagel, 2013.  https://www.reuters.com/article/us-usa-defense-hagel-idUSBRE9A40DJ20131105
[11]          Jeffrey W. Meiser, "Ends + Ways + Means = (Bad) Strategy," Parameters, , p. 85.  https://ssi.armywarcollege.edu/pubs/parameters/issues/Winter_2016-17/10_Meiser.pdf
[12]          Lincoln, Holly (pseudonym), "To Defeat ISIS, Stop Using the "Easy Button" Of The US Military," 21 November 2015, The Havok Journal, https://havokjournal.com/culture/to-defeat-isis-stop-using-the-easy-button-of-the-us-military/
[13]          Quote attributed to Charles Darwin.
[14]          U.S. President Donald Trump, "National Security Strategy," December 18, 2017,  https://www.pbs.org/newshour/politics/read-trumps-full-speech-outlining-his-national-security-strategy
___________
Lieutenant Colonel Charles Faint is a career U.S. Army intelligence officer who completed seven combat tours of duty while assigned to units including the 5th Special Forces Group, the 160th Special Operations Aviation Regiment, and the Joint Special Operations Command. He is currently the G2 Operations Chief for the US Army Pacific Command (USARPAC) at Fort Shafter, Hawaii. He earned a Master of Arts in International Relations from Yale University and prior to his current assignment was the Director of the "Officership" capstone course at the United States Military Academy at West Point. He is also currently a third-year student in Temple University's Doctor of Business Administration program. This article reflects LTC Faint's personal opinion and experience. The views contained herein do not represent an official position of USARPAC, the US Army, or the United States Government.
© 2020 The Havok Journal
Like this article? Like us on Facebook!
havokjournal@havokmedia.com
The Havok Journal welcomes re-posting of our original content as long as it is done in compliance with our Terms of Use.
© 2023 The Havok Journal
The Havok Journal welcomes re-posting of our original content as long as it is done in compliance with our Terms of Use.