My practice as a jump master and last jumper was to give a copy of the jump manifest (which has the name of all the jumpers and is used for 100% accountability after each jump), to one of the early jumpers in order to support personnel accountability in case the jump was aborted at some point and everyone did not get to jump. This was before easy access to copy machines and was definitely well before the age of the iPhone. So making and distributing copies of anything was a much different process. Additionally, the long flight, inflight rigging, problematic cargo loading, and crowded aircraft had broken my routine and I failed to execute this important task. The end result was that I had all copies of the jump manifest. I was passed out, on the drop zone, in the dark, with a broken leg.
With no manifest at the assembly point, it soon became obvious that someone—me—was missing. It took quite a while for them to find me since I was so far down the drop zone and over a small rise.
I probably laid there for most of an hour before they found me. The morning was hot and had I done some yelling and screaming and needed a drink of water once I came to. I finally dragged my rucksack over to me by the lowering line. This was an "admin jump" and I had packed the water inside for the jump. I used one hand to hold my leg together and the other to attempt to open the ruck, I never imagined how hard it was to open a fully packed ruck with one hand. I finally got it open with one hand and dragged out enough gear to get to the canteen.
I had gear laying everywhere, my parachute laying across the desert, and my gear scattered all around me when to Navy medical support team finally located me. The vehicle pulled up and the Navy medic jumped out, looks at me holding my leg together with one hand and seeing all of my gear strewn around, and said something to the effect of "something wrong with you?" Um, yes, you could say that. I'm holding my leg together with one hand, my parachute is blowing around on the ground and half of my gear is spread across the California desert. I would have turned his lights out if I could have gotten my hands on him.
My team medic and our senior company medic soon arrived and called for a medical evacuation (MEDEVAC) to take me to the small Navy hospital at Twentynine Palms. After what seemed to be a very long time, I heard the sound of the helicopter arriving.
As the helicopter approached, another Team Leader was standing in front of me, and all of a sudden, his eyes got as big as baseballs. I didn't know what it was until later at the hospital when they told me that the pilot had almost crashed the helicopter during landing. So on top of a compound fracture and being stranded alone in the desert for hours, my rescue helicopter almost landed on top of me. Good times.
But wait! The story gets better. On the way to the hospital, the very, very overweight Navy crew chief kicked my leg twice while he was moving around in the helicopter. I was in pain and in a very foul mood arriving at the hospital. The helipad was about 30 yards from the small hospital entrance, but during even this short transit I was almost dumped off the stretcher twice. So, I arrived in the ER with a very, very foul disposition.
When I was finally in the hospital exam room, the Navy doctor and nurse started to take my boot off. It seemed to take forever and the pain was extreme. They finally got my boot off and the doctor and nurse started trying to roll up my pants leg to examine my leg. I looked at the doctor and said, "Cut it." But the doctor kept working, saying that he did not want to ruin my newly-issued camouflaged uniform pants. After again telling them to cut the uniform, they again disregarded my direction.
At that point, my foul mood, pain and frustration all came together and I decided to take things into my own hands, literally. I took out my large folding Buck jump master knife that I wore on my belt, inserted the blade in the pants on inside leg seam and in one motion cut all the way to my ankle. This resulted in big eyes all around.
I really don't like to admit what happens next…me, an injured Army Special Forces Officer, being disarmed by a Navy doctor and nurse. Is that the "Unconventional Way?"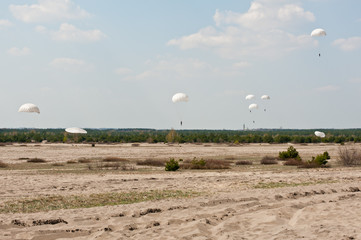 At any rate, they released me later that day. I was broken and in bed in a large open bay barracks that was our home while training at Twentynine Palms. It just so happened that my promotion to Captain was a couple of days after my injury, and you don't get promoted without a promotion party, especially in Special Forces. So the company returned from training, got me on my feet, put a uniform shirt over my underwear, and the promotion orders were read. The commander pinned on the captain's bars, a keg of beer was rolled in and in the best tradition of Special Operations, the promotion party began. You can imagine how bizarre this would have been to nearly any other organization: a Special Forces officer with a broken leg, standing in his underwear and a uniform shirt, getting promoted to captain. The "unconventional way" had struck again.
Still at Twentynine Palms a couple of days later, our medics became concerned about my leg and the amount of pain I was experiencing. They took me back to the hospital to see the same doctor who initially treated me. After splitting the cast and looking at the mess underneath, they had lots of uncomplimentary comments to say to the doctor. It was obvious from what they saw that he had missed that fact that my ankle was also badly broken and separated. The decision was immediately made that they needed to get me back to Fort Bragg.
A Navy flight two days later to Cherry Point, North Carolina was my way home. My wife picked me up and drove me back to Fayetteville, where I got to spend the night at home. The next morning bright and early, I was admitted to Fort Bragg's Womack Army Hospital, and surgery was performed the next day to put the ankle back together.
After about eight weeks in a cast and several more in a brace, I faced one of the harder obstacles: the challenge of running again. I made good progress in rehab but running again took far more time than I expected.
Eventually, I received the word, 'Okay, time for you to jump again!' Fine, that's the unconventional way. Let's go do it. And, as you might imagine, you're just a little shy and apprehensive right before your first jump after a major injury. But the basics are still the same: "feet and knees together, do not reach for the ground, do a good PLF," that was my plan. I executed the plan and went on for about a hundred additional injury-free jumps (none of which were at Twentynine Palms).
One of the most memorable parts of my time as a team leader in the 5th Special Forces Group. At the time, I was part of a Mobile Training Team (MTT) sent to Iran to provide basic infantry tactics and fire and movement training to Iranian infantry organizations using the "SCOPES" (Squad Combat Operations and Exercises, Simulated) training devices and methodology. During this MTT, we trained Iranian infantry soldiers and the training received lots of interest from senior Iranian officers. At training one morning, one of their more senior officers asked me what my "squashed bug" branch insignia signified. This was before Special Forces became a separate Branch so I wore my military intelligence collar insignia, which did, in fact, look like a squashed bug. Wearing intelligence brass was normally not a problem unless we were dealing with foreign militaries. Knowing that "military intelligence" is often synonymous with "secret police" or death squads in their culture, I gave the Iranian officer him an evasive non-answer. But he was very persistent, and I finally told him I was an intelligence officer. He nodded and said simply, "You are a very dangerous man." I did not see much of this guy for the rest of our time in Iran.
My time in Special Forces and in Special Operations came to what I believed was the end as it was time for me to go off to the Advanced Course and back to my career as a "conventional" Military Intelligence officer. But it turned out that this was not the end of my experiences with the unconventional way.
After time on the staff of 8th Infantry Division, followed by company command and attendance at Air Force Command and Staff College, my next assignment was to the Pentagon in the office of Deputy Chief of Staff for Operations-Force Development (DCSOPS-FD). As it turned out, DCSOPS-FD was a great place to work and we were making a positive impact on numerous programs that were the foundation for many of the great programs fielded in the late '80s early '90s. But after about a year, I was selected (and definitely did NOT volunteer) to be part of an exchange program developed by the Vice Chiefs of the Army and Air Force to promote understanding and interoperability between the services. The intent of the program was to exchange officers from various offices on the services' senior staff. As the junior officer in our office, I got the short straw and I went "kicking and screaming" over to my new assignment.
After a few months of what was supposed to be my year-long gig on the Air Force staff, I got a strange call asking that I meet a guy in the Army Operation Center. No name, purpose of the meeting, or discussion topic was provided. It all seemed very… unconventional. I was intrigued. I arrived at the appointed time and place to meet with a guy in civilian clothes who wanted to talk to me about going back to Fort Bragg and a new Special Operations organization. After a very short discussion, I told him I would love to…but there was no possible way that I would be released from the Vice Chief of Staff's pet project before I completed the yearlong assignment. His comment in response was: "Would you come if you were released?"
My response was "Sure, but it will never happen."
Little did I know…
A few weeks later, I received orders back to Fort Bragg and the new, highly secretive Joint Special Operations Command (JSOC). The unconventional way had struck again.
My introduction to the unconventional way started me on a path that would lead to multiple great Special Operations assignments in organizations like 5th SF Group (A Detachment Commander and assistant Group S-2), Joint Special Operations Command (J2 operations), then command of an organization that others would later call Task Force Orange, and culminated with my service as J-2 for U.S. Special Operations Command. I had many great experiences and worked with many great men and women in those units. They were the experiences of a lifetime.
But those, my friends, are stories for another day.
______________________________
This story was derived from an interview of COL (Retired) Don Faint conducted and transcribed by his granddaughter, Emily Faint.
This first appeared in The Havok Journal on August 28, 2020.
© 2023 The Havok Journal
The Havok Journal welcomes re-posting of our original content as long as it is done in compliance with our Terms of Use.