From Your BROTHER-In-Arms: Veterans, Stop Saying No One Cares about Kaepernick
by David A. Jackson
Editor's Note: At my suggestion, this first-time Havok Journal author is writing under a pseudonym. I served with him overseas and vouch for both his service and his character. ~Scott Faith. This first appeared in The Havok Journal October 15, 2018. It is republished because the content is just as important and relevant today.

_____
Fellow veterans please stop saying "no one cares about Kaepernick," because it is demonstrably untrue.
Hang with me a second, Battle Buddy, and try to see my perspective on the Kaepernick fiasco. Imagine for a moment we are on a flight line (in some God-forsaken country) waiting for the "weather hold" to clear up and we got nothing but time to shoot the shit.
First, I have no personal obligation to support the man Kaepernick, the sport of football, nor do I plan on buying a bunch of Nike products. Now that that's settled, and since we've got plenty of time to wait, let's explore this a little further:
In the military we often come from completely different states, completely different backgrounds, separate cultures, and finally, at the time of writing this piece, I may have a little more melanin in my skin – but that's cool brother (remember the term 'brother' was used here because it will be helpful later in the discussion).
Put aside being right or wrong, red or blue, or any other binary – on this side or that side- crap others are selling for a moment and listen to your Battle Buddy, the black man or woman you served with. You got nowhere to be anyways (still on the flight line). Please take just a moment to understand the complex emotions I have about the Kaepernick discussion.
Now that the I have set the stage (the flight line analogies end now) here are my main thoughts:
Brother and Sister Veterans, every time you see a service member fall in combat – it stings more than any civilian could every understand or imagine. Stings to our core. As a black veteran, I feel a similar sting when unarmed African Americans are killed in the street. HOLD ON – before I get the Port-O-Pottie violently shaken during my morning crap- hear me out. I would NEVER say the killing of unarmed blacks is the same as a fallen comrade, just that I feel a similar kind of pain (a personal perspective, of which I hope others take the time to consider and find some empathy).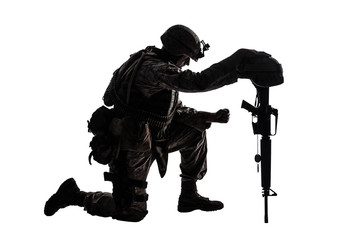 Why do you think we, blacks in America, often say "what's up BROTHER" to strangers – other African Americans – in our day to day lives? (I told you to remember the term brother earlier). Not only is it a term of endearment, it is an acknowledgement of shared experiences. We feel a sense of togetherness based on historic events, mutual hardship, and lived connections. Sound familiar? It's a bond not unlike the one you have with service members you never met or just met. You are simply Brothers and Sisters in Arms. Right?
Not all the recent cases of interactions between blacks and law enforcement required my emotional energy or raised major questions. But the cases related to Philando Castile (shot in front of girlfriend and daughter), Terence Crutcher, Walter Scott (shot in the back in Charleston, S.C.), Eric Harris, Akai Gurley, and too many others made a major sting in my heart. You might say "the media is making it seem like a bigger issue then it really is". Or, main stream media is using these cases to insight continued division. Could very well be true. Without arguing that I understand the root cause, or can provide solutions to this issue, I would ask the question: isn't one case too many? Media hype aside, isn't watching the video of the above men (brothers) being slain one too many?
Others have said this is not a systematic issue, but just a few bad apples. My response: Cops must have a means to cross the thin blue line and turn in the 'bad apples'. Otherwise, the entire force is at risk of losing public faith and the original phrase is: one bad apples spoils the bunch. Not "one bad apple is spoiled, but we can overlook it for a while, it will fix itself". In short, inaction by good cops equals complicity.
What makes my thoughts even more complex and painful, is the fact that I see veterans making quick judgements about the Kaepernick issue without considering their black brothers in arms.
When I was in the Army. We were all green. Now that we have our DD-214s (laminated and in a burn proof box), what has changed? Aren't I still your brother? Moving into the civilian world shouldn't change that. I belong to another group that has a sense of "tribe" as well. Not the tribalism that brings with it the modern nuance of partisanship, but one borne of going through tough shit together. Yes, things have improved for blacks (we get that) but when you get followed in a store for being too dark – it still stings. When a cop mistreats you in front of your wife and kids in Mesa AZ and almost pulls his fire arm even though you remained calm. It still stings. All these things happened to me – it's a firsthand account. Finally, when you watch a video of someone that looks like you get killed by a police officer it stings the most. At this point – the sting goes deeper then you could ever know, unless you belong to the above-mentioned subgroup.
To make matters worse, your fellow brothers in arms are saying why should we care about overpaid and spoiled Kaepernick? The stinging goes deeper. They say: look at the stats – unarmed black men are not killed nearly as much as the media depicts. That doesn't remove the sting. Stats don't remove the pain one feels when we watch an innocent brother die. Others may say – "why do you keep bringing up color? If we forget about color all our troubles would go away." Of course, we are hopeful for such a day. But until we have 100 percent accountability on all sides (you know how hard that is Battle Buddy), change will be slow going.
In the meantime, please try and understand the sting we feel after an unarmed black man is killed. We ask that you do not bring up some crime laden city in America when you talk about innocent men being killed. It is nothing more than conflating two important American issues that need to be improved:
Much work needs to be done to cut back on single parent households, providing meaningful education, giving hope to the youth, and providing alternatives to violent lifestyle in the inner city.
The existing bias by law enforcement when it comes to blacks and the overuse of force.
Don't mix the two points – otherwise all I hear is "there is crime in the inner city (Chicago, Ferguson) so some innocent black folks being shot is just gonna happen."
What about me? The black men you served with? One innocent is one too many, right? If we allow the parts to define the whole (race) we have not come very far at all.
We served together. You know me – I don't deserve to be killed for non-aggressive behavior.
I will leave you with this. I will always stand for the anthem and our nation but don't tell me "no one gives a crap" about Kaepernick simply because he took a knee for what he viewed as his brothers being killed in the streets. An action well within his rights as an American. An action we can relate to as soldiers.
© 2023 The Havok Journal
The Havok Journal welcomes re-posting of our original content as long as it is done in compliance with our Terms of Use.