And let's talk about bad actors. Nicaragua, Bolivia, and the flavor-of-the-week Venezuela. How can such bald-faced liars and pseudo-socialists remain in power? Could it have something to do with the billions of dollars that China has "invested"? Either China's 'private companies' have made some exceptionally bad investments, or the CPC saw that destabilizing the Hemisphere would tilt interests their way. And as a bonus, anti-US regimes also don't have problems with importing tons of fentanyl or precursor chemicals – which have had conveniently destabilizing effects in the U.S.  [At this point, I imagine a Chinese version of Erkel saying "oh, did I do thaaaat?"]
Human rights, environmental regulations, rule of law… our values have been weaponized against us. "We can't help you build a bridge here, because it's not organically grown, free-range, pesticide and hormone-free." China, on the other hand, shows up at the local Governor's office with a big bag of money and says "we'll give you 10% right off the top, and the bigger the project, the better.  Should we just make the check out to "cash?"  All the reasons that we –don't- give support open the door to Chinese financing.
El Salvador's  government, under FMLN leadership recently 'flipped' from Taiwan to China.  This, after Panama 'flipped' in 2017.  The FMLN is now "out of power," but promises to rule in the shadows. Not a big deal… except that the local industry was 'convinced' beforehand with both cash-in-hand and promises of access to Chinese markets. And the outgoing President of El Sal now has millions in a bank account not subject to U.S. scrutiny. The U.S. found out about both abrupt changes only hours beforehand.
Oh, I hear you, friend. We have to take a firm stance. "Well, we'll just… cut off all the money we give them there people." Doh! China has promised to replace any amount of U.S. aid that Western Hemisphere governments have promised if they switch their loyalty.
It gets better (and better, trust me). U.S. news outlets in the Western Hemisphere charge for their services. China's news outlets offer their news for free. So what gets run in the press? The narrative is largely controlled by China.

(NOTE: When Panama and El Salvador 'flipped' to China, the top pressers and their families flew first class to China. They enjoyed an all-expenses-paid and inconvenience-fee-provided two week visit to China. They were given 'access' to all the good things that China was doing to improve; high speed trains, shining cities, cities without crime. Huh. I am sure that this didn't affect the objectivity of their reporting when they got back home.)
[Additional NOTE: Also: since 2015, China has provided more military training to Latin America than the United States. But there's nothing to worry about, surely, because there's certainly no long-term effect to inviting people to your country to see your values in practice, right?  It's not like they're getting indoctrinated… right?]
And so, while the United States was boldly "keeping the World free for Democracy" by bombing Akbar's secret goat-love-cave in Afghanistan, China has been very busy co-opting our neighbors – without firing a single shot. I was told a few years back "if you want to know what foreign policy the United States values, follow the money." By those metrics, we value no-resources-but-strategic Afghanistan (at 45B USD per year) 30 times more (1.5B USD) than we do our entire Hemisphere.
We don't want [insert Country-istan] to descend into chaos. We are actively, boldly, defending our values and interests around the world, aren't we? "We fight them there so that we don't have to fight them here." But… 29,000 people were killed in drug-related violence Mexico alone last year. Congress responded by "funding" Guatemala, El Salvador and Honduras with $500M USD, but put in restrictions and clauses which meant that 80% of the funding would not be released. "Here's $100M USD, CENTAM, don't spend it all in one place, especially not on China." Problem solved, problem staying solved. Right?
Wrong. So, we don't put any funds against making Central America better. And people with no options or resources flee the violence and instability in Central America, the discussion is now about whether we should… build a wall. For $5.7 Billion USD. The total value of cocaine exported from Colombia alone last year was $15B USD. How can we even begin to imagine we have a seat at the table?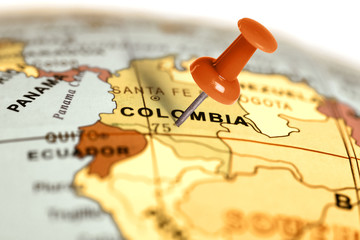 All of the non-Socialist countries of Latin America recognize that the U.S. has more values than China, with better material and training to boot. They consistently ask for more assistance, because they recognize the existential threat that we deny.
At this point, you might be wondering why the U.S. hasn't actively been fighting back. And here is the really ironic point; because it's not an "active threat", the DoD "has no role". We send a mobile training team here, maybe bring a few dozen senior officers to our courses. But after China finishes financially coopting our "friends", the sovereign nations won't fight them. They won't fight us, either. They will say "thank you very much" and politely ask us to leave. The ultimate "it's not you, it's me" kind of situation.
There is an alternative to be considered. What if we didn't build a wall? What if we spent the money on building up the people we have called our partners and allies? Build up their Coast Guards and Navies to intercept drugs? General John Kelly testified to Congress that the JIATF-South intercepted 20% of the drug traffickers that they identified. I have to admit, it sounds a lot better than saying "80% of the drug traffickers we see coming here get through to the U.S." Or help them build up their security forces so that their own people aren't forced to run for their lives, with nothing but the shirts on their backs?
The real beauty here is that compared to other areas of operations, we would spend pennies on the dollar building lasting and valuable partnerships. Instead of trying to convince culturally alien countries to abandon principal tenets of their societies (Egypt, Afghanistan, Syria, Iraq, Mali, Djibouti, I'm looking at you) we could, just maybe, help build functioning societies in Central America, and fortify real democracies in the Western Hemisphere (Brazil, Chile, Colombia, Mexico).
Doing nothing is an option. We have tried it, and it is clearly not a good option.
Maybe we should stop trying to throwing good money after bad, and invest in the people we are linked to by culture and history.
Maybe we should… dare I say it… make the Americas great again?
___________________________________
This first appeared in The Havok Journal March 4, 2019.
© 2020 The Havok Journal
Like this article?  Like us on Facebook!
havokjournal@havokmedia.com
The Havok Journal welcomes re-posting of our original content as long as it is done in compliance with our Terms of Use.
© 2020 The Havok Journal
The Havok Journal welcomes re-posting of our original content as long as it is done in compliance with our Terms of Use.