by LogCinco
Since the 1980s, the Government of the United States of America has been asleep at the switch. Not everyone, of course:  there are thousands of dedicated professionals at the Department of State, the FBI, DEA, USAID, and the DoD who have dedicated their lives to maintaining and improving relations in the Western Hemisphere – and have had a ringside seat to the decline of our power and influence.
Let me be blunt. We are in a grey war. Not a "cold" war.  Not a full-on chest-deep- fighting-positions war, either. But we are being engaged asymmetrically, and our values have been weaponized against us. Latin America is being destabilized and coopted, and this presents a security threat.  And our current policies and outlook not only fail to address the threat but in many cases are actively working against our interests.
In 1980, James Earl Carter, Jr.'s Presidency laid down a moral mandate – we would no longer support governments that fell short of real Democracy. The Leahy amendment was also founded on sound moral principles; we cannot (in good conscience) actively support governments that don't respect basic human rights.
Americans returned from abroad with horror stories of what had happened in (Argentina, Brazil, Chile, El Salvador, Honduras, Guatemala, pick one, it's ok if you don't like the choices, there are others) and decided to do something about it. They entered academia and taught generations that the flaws of American democracy had created the horrors perpetrated on our neighbors. Spoiler: not entirely untrue.
These righteous witnesses joined our government, dedicated to ensuring that the USG would never defile the values of our founding Fathers.
[Author's Note: our Founding Fathers believed that noble ideals would build a noble nation.  And they were right.]
But bureaucratic entropy virtually ensured that our government would gleefully add layer upon layer of requirements to receive U.S. government support. Environmental restrictions, child labor laws, respect for women's rights. All noble causes – and worth fighting for. But our policies had a fatal flaw; they were based on the idea that our "brown little friends" had nowhere else to go because of simple geography. In this policy Fantasyland, our Southern friends would forever gaze longingly at their Great Northern Neighbor. They would pine for our love, wish they could be like us, and follow our whims.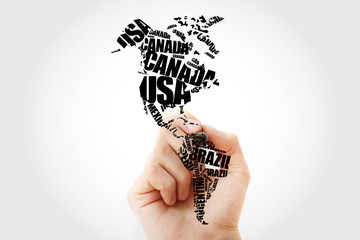 Since the 1980s, U.S. foreign policy in the Western Hemisphere has been a lot like a hangover after a bad hookup. We know we regret what we did the night before, and prefer to pretend that it never happened. Maybe it's better if we never talk about it?
The "woke" vibe in politics has described it this way: "We shouldn't interfere in their lives, they are free to be with who they wish, and their affairs are their own."
It made perfect sense, then, when (then) Secretary of State Kerry told the Organization of American States (OAS) in 2013 that "the era of the Monroe Doctrine is over."
[Quick history note: the Monroe Doctrine said that any foreign intervention in the Western Hemisphere would be interpreted as an act against the United States. Over the –centuries- which followed, corollaries were added which stipulated meaningful nuances which can be summarized as "we mean it" and "don't be sh*theads".]
Given that the average U.S. Citizen can't tell the difference between Guatemala and Ghana, Argentina or Azerbaijan, the full-stop policy on U.S. giving-a-sh*t went pretty unnoticed in our local press. But the rest of the world noticed. One particular foreign power, with a long view, took distinct notice that we were completely fine with shutting down the Home Owners Association and letting the neighborhood go to… whatever.
I know how the psychology works; instead of having to be reminded of what we did wrong, the USG preferred to say "we're over it, get on with your lives, find someone new." So… they did.
Enter the globalized world. And enter… China. China has gotten increasing amounts of press over the years for buying up… everything. And coincidentally, Chinese investment in the Western Hemisphere has increased 16-fold since 2013 – since we effectively abdicated our leadership role.
The predatory practices that get criticized in Bangladesh, Djibouti, Tanzania, and Guinea seem to get little press. But while we've been playing X-Box and watching the Superb Owl, it's been happening under our noses. Our friends and neighbors in the Hemisphere have been getting bought out and co-opted by China.
China now owns all or part of 48 major ports in the Western Hemisphere. They effectively control the Panama Canal, deciding what 'priority' is assigned to goods passing through. China built a 16-story satellite tracking facility in Argentina that the Argentines aren't even allowed to visit (outside of the dining hall, which is apparently pretty nice.)
[Author's Note: When the new pro-right Macri government took over recently, they tried to shut down the satellite facility. The conversation went something like this:
Argentina: We want you to either allow us full access to your facility, or we're going to shut it down.
China: Oh sure, glad to do it. Hey, we've noticed that you're exporting a lot of soybeans to our country.  That's a lot of trade, it would be a shame if something should… happen to it."
Argentina: … yeah, that's fine, sorry we bothered you.]
My first instinct is to say "Bwahahaha." (Admit it, it's a serious gangster play). But then, if we expand the aperture, we see this type of leverage being applied all over the Hemisphere. Ecuador has 52% of its GDP going to pay Chinese debt. So when Chinese fishermen were busted fishing in the Galapagos islands (UNESCO World Heritage site since 1979), the government of Ecuador responded with a vigorous "meh"… and gave them four-year sentences.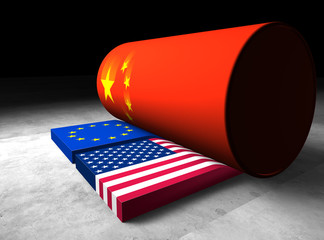 "Oh you don't like it? Well, what are you going to do about it? I'm China b!#ches!!"
Continued On Next Page
© 2023 The Havok Journal
The Havok Journal welcomes re-posting of our original content as long as it is done in compliance with our Terms of Use.