Section IV: Why The Distinctive Fear Created By Targeted Killing Is Wrong
Thus far, I have shown that the fear created by targeted killing possesses an element of surprise in a way that the fear created by acts of terrorism does, but I have not argued that the fear possesses the element of purposefulness, which I previously found as a distinctive and ultimately a necessary element to the fear created by terrorism.
Therefore, some individuals may be unimpressed with the connection I see between targeted killing and terrorism, as the fear created by targeted killing lacks a distinctive element of the fear created by terrorism I have identified in past work. In response to this possible objection, I will now elaborate on how the distinctive fear created by targeted killing is morally wrong despite it possessing only one element of the fear caused by terrorism.
Some authors have suggested that the definition of terrorism can include "negligent and reckless uses of force," which would entail that "some harms unintentionally inflicted on non-combatants in the course of war are a form of terrorism" (Rodin 762). This definition seems to suggest that purposeful fear may not be necessary to label an action taken during the war as terrorism. This issue of "negligent and reckless uses of force" arises particularly when examining the practice of targeted killing, which when executed using drones "against targets within or adjacent to civilian populations" it is "almost certain" that the drones will "generate non-combatant causalities" (Rodin 762).
Based on this definition, targeted killing executed with drones appears to accidentally weaponize fear in a way that produces effects characteristic of unintentional terrorism. Based on how this technology is employed, drones permeate the fabric of everyday life of the community at large in a manner that seems pervasive and predatory in comparison to weapons such as artillery or helicopters. For example, drone operators stalk their targets for days and weeks, learning their every move. Also, they choose to strike their victims at times when the victim would least expect to die.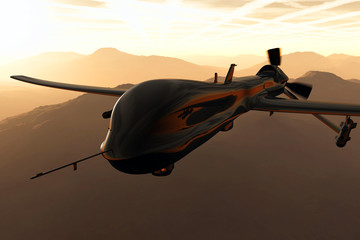 Overall, the unintentional fear created by the tactic of targeted killing destabilizes the society in which targets are attacked, which mirrors the effects of unintentional terrorism (Caccamo 5). Therefore, targeted killing seems morally worse than conventional acts of war because it is something "done to… the broader society in which the acts occur" (Caccamo 5). This aspect of targeted killing shakes a society to its foundation and striking a nation or people using this practice through drones appears to create a distinct wrong not present when conventional weaponry is utilized in war.
The results of the distinctive fear caused by the practice of targeted killing can be observed in Pakistan, where drone warfare, through unintentional terrorism, has created a society in which people feel similar to how Americans felt "on 9/11" (Friedersdorf). Just as "people were afraid about what might happen next" and how they "didn't know if there would be another attack" in 2001, Pakistanis experience a "continuous tension, a feeling of continuous uneasiness" due to the recurrent drone strikes in their borders (Friedersdorf). One Pakistani mother is quoted in The Atlantic as describing "what happens when her family hears a drone hovering overhead: 'Because of the terror, we shut our eyes, hide under our scarves, put our hands over our ears,' she told her interviewer. Asked why, she said, "Why would we not be scared?" (Friedersdorf).
A father of three "from a different family unit stated that 'drones are always on my mind. It makes it difficult to sleep. They are like a mosquito. Even when you don't see them, you can hear them, you know they are there'" (Friedersdorf). A report written by Stanford University and New York University corroborated these Pakistanis' quotes. It found that the "presence of drones and capacity of the US to strike anywhere at any time led to constant and severe fear, anxiety, and stress, especially when taken together with the inability of those on the ground to ensure their own safety" (Stanford 55). In contrast to conventional tactics, targeted killing exercised through the use of drones creates a distinctive surprise-laden fear, which suggests it should be labeled as unintentional terrorism as it effectively causes a unique type of collateral damage to the society it is practiced in.
Therefore, my argument that targeted killing, and thus drone warfare, is morally questionable has two main claims. Firstly, the fear created by targeted killing possesses an element of the fear caused by terrorism: surprise. While tanks or helicopters can surprise their victims, targeted killing as a practice performs killings in a manner that makes the average observer uneasy. Secondly, while the fear created by targeted killing does not possess the element of purposefulness so integral to the fear caused by terrorism, the surprise-laden fear it does create is an effect that suggests targeted killing may be a form of unintentional terrorism. Unintentional terrorism make citizens "more fearful of their everyday lives in a way that clearly unduly harms their self-determination" (Caccamo 6).
Targeted killing executed with drones has been having this effect, as "people's sense of safety" has been undermined "to such an extent that it has at times affected their willingness to engage in a wide variety of activities, including social gathering, educational and economic opportunities, [and] funerals…" (Stanford 55). Therefore, targeted killing seems more morally wrong than conventional strategies employed during warfare with conventional weaponry, which weakens Statman's conclusion that no persuasive argument can be presented against the use of drones. Overall, it appears that targeted killing as a practice has effects similar to those of unintentional terrorism, primarily the creation of fear that possesses an element seen in the fear created by terrorism: surprise. Therefore, the connection between targeted killing, terrorism, and drone warfare reveals drones to be worse than conventional weaponry and warfare.
CONTINUED ON NEXT PAGE
© 2020 The Havok Journal
The Havok Journal welcomes re-posting of our original content as long as it is done in compliance with our Terms of Use.