by Kim Caccamo

Editor's Note: Kim Caccamo is a cadet at the United States Military Academy at West Point. This academic work product does not reflect an official position of West Point, the U.S. Army, or the U.S. Government. This first appeared in The Havok Journal on August 25, 2020.
---

Introduction
In the United States, the use of drone warfare to conduct military operations has increased significantly in recent years due to advancements in drone technology and the changing landscape of war. This warfare is "part of a global pattern of an ever broader and unfettered use of air power" that began with the Obama administration "but which has been spurred on and expanded under Donald Trump's presidency" (Borger).
However, the increased use of drone technology has been met with resistance from experts in various fields of study. For example, philosophers have debated the nature of drone warfare and what, if anything, makes it wrong without reaching a unanimous conclusion. One philosopher, Daniel Statman, argues that drones are more discriminate and reduce risk to soldiers, which possibly creates an obligation for militaries to utilize them. In his paper, "Drones and Robots: On the Changing Practice of Warfare," Statman presents five common objections to drone warfare and rebuts them. In the process, he analyzes the moral issues surrounding drone technology. Statman concludes that there is nothing new about drones in comparison to conventional war weaponry, and therefore sees no reason why drone warfare's morality should be heavily scrutinized (Statman 1).
I believe Statman's analysis is incomplete. Specifically, I think that Statman does not adequately appreciate and discuss the implications of the fear drone warfare causes in comparison to conventional war weaponry. While Statman helps us address common objections to drone warfare and encourages healthy skepticism about many prevailing views of the technology, the goal of my paper is to offer reasons why we ought to be concerned with the increased use of drones (Caccamo 1-2). Specifically, I believe a parallel can be drawn between drone warfare and acts of terrorism that help ground reasonable objections to the use of drones.
First, I will present a general overview of Statman's paper. In this overview, I will articulate four objections to drone warfare Statman refutes and explain the connection Statman sees between drone warfare and targeted killing. Second, I will explain why Statman thinks that the practice of targeted killing is "far less problematic than critics would have us to believe" and therefore targeted killing does not present a persuasive challenge to the use of drones (Statman 13). Third, I will criticize Statman's conclusion that drone warfare is not markedly different from conventional warfare.
To accomplish this, I will summarize a previous argument I made that found that acts of terrorism are morally worse than acts of conventional war because the fear caused by terrorism has two notable elements that seem absent from the fear caused by conventional acts of war: surprise and purpose (Caccamo 2). Fourth, I will show how targeted killing executed through drone warfare creates a distinctive fear characterized by the element of surprise, thus showing a similarity between targeted killing and terrorism.
While the distinctive fear created by targeted killing may lack the second notable element of the fear caused by terrorism (purpose), I will discuss how the distinctive fear is a characteristic effect of unintentional terrorism, which calls into question the morality of targeted killing. This will undermine Statman's argument that targeted killing is not "morally problematic" which, in turn, presents difficulties for his acceptance of drone warfare. Finally, I will conclude my paper by suggesting how drone warfare could be regulated through the power of heuristics to reduce the immorality of the practice instead of totally rejecting the technology.
Statman's View: What He Gets Right, and What Is Flawed
Statman presents four common objections to drone warfare. Firstly, our intuitions might find that there is something disturbing about being shot and killed by an imperceptible drone; it seems "particularly disrespectful and humiliating" (Statman 5). However, Statman claims this death is no more disrespectful than being killed by a tank or helicopter. The operators of these weapons do not particularly "affirm the humanity" of their victims and those victims are just as "faceless" as those of drones (Statman 5). Next, Statman refutes the claim that drone warfare is unfair. This argument was also made against submarines and machine guns when these technologies were first introduced, but they are now commonly accepted means of war (Statman 6).
Statman then considers whether riskless killing, such as that enabled by drones, undermines the license to kill in war. He asserts that riskless killing is a feature of war shared by artillery soldiers or cruise missiles, so this argument is not persuasive against drone warfare (Statman 6). The fourth objection Statman presents is that drone warfare creates wars without virtues like courage and loyalty. However, he states that drones will never completely replace ground operations, so there will be potential for these virtues to flourish (Statman 7). Also, even if drones make "the martial virtues redundant," this is not a good reason to avoid their use (Statman 7).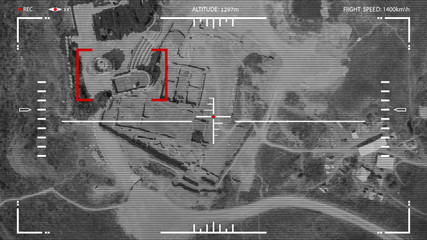 I agree with Statman's replies to the four common objections to drone use. These arguments are not persuasive enough to condemn drone warfare. Rather, my disagreement with Statman's conclusion that drone warfare presents no moral dilemmas stems from his examination of "the most widespread objection to the use of drones" (Statman 11). This objection is based on drones "having become the main tool for the targeted killing of assumed members of terror organizations" (Statman 11).
CONTINUED ON NEXT PAGE
© 2023 The Havok Journal
The Havok Journal welcomes re-posting of our original content as long as it is done in compliance with our Terms of Use.