Did you wonder why that fancy gadget or cool outfit you ordered for Little Suzy's Christmas present never showed up? Well, if you live on the West Coast–or if you ordered something shipped from the West Coast–it might have been stolen straight off the train. In fact, it probably was.

California's soft-on-crime policies, particularly the ones related to theft, have predictably created a crime wave throughout the ultra-liberal state. Shoplifters steal entire shopping carts worth of merchandise at will. Smash-and-grad robberies are surging. And cargo trains are being regularly looted of their cargo.

The scale of the train thefts is particularly staggering. Photos of the area show a wide area of thousands of pilfered boxes and empty packaging littering the tracks of the Union Pacific train in Los Angeles. It looks more like a third-world dump or a war zone than a train yard. The damage is really mind-blowing when you consider that the train companies claim that this buildup of debris is only from the last 30 days.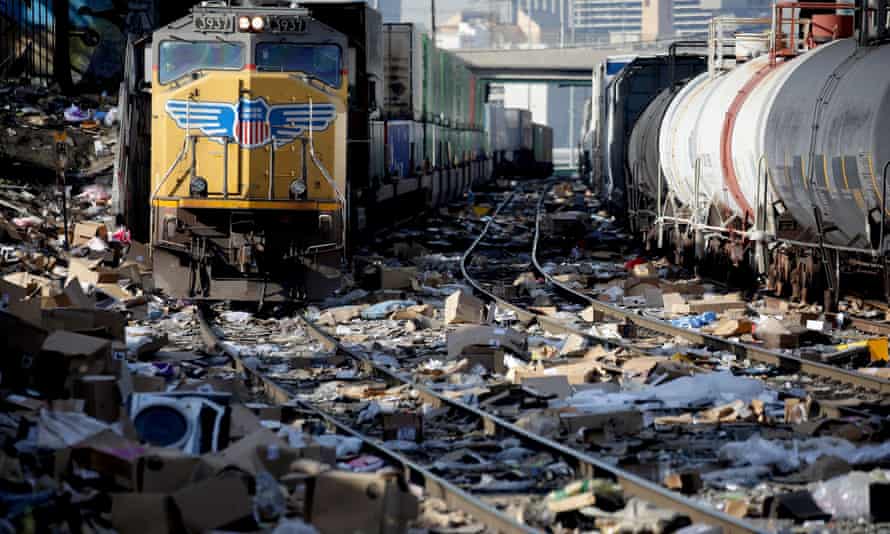 California Governor Gavin Newsome recently made news by going out and helping pick up the litter. That's great and all, but what would be better is if he cleaned up the ridiculous criminal-enabling laws that permit–no, that encourage–this type of behavior. The lawlessness and destruction in California are the utterly predictable result of ultra-progressive moves to "defund the police" and de-criminalize lesser crimes. This is what happens when feckless liberal politicians are more concerned with perceptions of social justice than actual justice. These policies always ultimately end up causing more long-term harm to the very people they are ostensibly trying to help.

Railway theft is over 350% (yes, you read that right) from October 2020 to October 2021. And that was before the Christmas rush.

So yeah, if something you ordered or shipped never arrived, it could be porch pirates. It could be a bad address. Or, it could be progressive policymakers and activists setting the conditions for law-breaking that will continue to get worse in the coming years.

California is a beautiful and economically-powerful state. But they need to do better, and it can start at the tracks.
______________________
Scott Faith is a veteran of a half-dozen combat deployments and has served in several different Special Operations units over the course of his Army career. Scott's writing focuses largely on veterans' issues, but he is also a big proponent of Constitutional rights and has a deep interest in politics. He often allows other veterans who request anonymity to publish their work under his byline. Scott welcomes story ideas and feedback on his articles and can be reached at havokjournal@havokmedia.com.
© 2023 The Havok Journal
The Havok Journal welcomes re-posting of our original content as long as it is done in compliance with our Terms of Use.