Walls not only separate communities, but separate soldiers from the population, as well. They produce a false sense of success and can reduce the Army's ability to effectively conduct a campaign. If walls are a necessary evil to slow the onset of full-blown sectarian civil war, then planners need to understand that a second step becomes necessary the moment barriers are put in place: developing and implementing a plan to remove them that prioritizes reconciliation. That means being prepared to stay the course long enough to maintain stability after the walls are removed. Lt. Col. Dale Kuehl, a battalion commander during the surge in Iraq, wrote:
While I am sure units were doing what they could to protect the populace, the focus upon our arrival was on transition. The transition focus seemed to be more interested in getting out of Iraq as quickly as possible regardless of events on the ground based upon the premise that our presence was the cause of much of the violence that we were seeing. I believe this was a false premise based on a poor understanding of the dynamics playing out in the political and social infrastructure within Iraq. This strategy also ignored our moral responsibility as an Army and as a nation that we have for rebuilding what we tore apart.
Concrete barriers aided in neither the development nor the strengthening of political and social infrastructures in Iraq. Put in place on sectarian frontlines, they halted the sectarian civil war. However, what the US Army failed to do after the violence began to subside was institute a plan not just to remove the barriers after security objectives were met, but to do so in a way that fostered long-term stability.
The case of Northern Ireland offers the best insight into how the United States might manage a de-militarization and reconciliation campaign for cities like Baghdad, and thus warrants deeper examination. It is fundamentally important to understand that there are no simple solutions or quick timelines for reconciliation and only through a political solution can de-militarization occur. In Northern Ireland, reconciliation spanned over a nine-year period, from the signing of the Good Friday Agreement in 1998 to security normalization in August 2007. During this time, Northern Ireland had numerous political crises, and had self-rule (devolution) suspended by the British government from 2002 to 2007.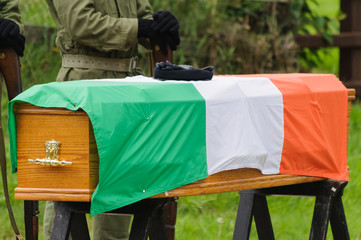 De-militarization, when it was finally announced in 2005, was planned as a two-year process, with emphasis placed on the removal of watchtowers and observation posts—infrastructure that, like concrete walls, was intended to exert control over population movements—along with withdrawal of British troops from installations run jointly with Northern Ireland police, closure and dismantling of British military bases to levels consistent within other nations in the UK, and troop reductions. These efforts were broken into six-month intervals, and an Independent Monitoring Commission was set up to ensure that the conditions for removal of military infrastructure were in line with threat assessments of paramilitary organizations in Northern Ireland.
In 1969, at the height of sectarian violence, the British government had also begun installing what it called "peace walls," mostly in Belfast, that separated Protestant and Catholic communities. More than one hundred of these walls were eventually put in place. The first removal of one of them wasn't until August 2016, and a decision has since been taken by the devolved government of Northern Ireland, comprised of ministers from parties on both sides of the long conflict, to remove all walls by 2023. Over twenty-four years will have elapsed from the signing of the Good Friday Agreement to the removal of the last peace wall. There is perhaps no better illustration of the fact that the security gains offered by barriers must be placed into a broader political plan for reconciliation—which require foresight and long-term commitment to translate short-term security gains into enduring stability.
Planning Considerations
When the United States finds itself fighting a counterinsurgency campaign in the future and if, like Iraq, an insurgency turns into a sectarian civil war, walls may become a necessary tool to halt the violence, particularly in cities. However, once we decide to utilize concrete barriers we should also understand their longer-term impacts and plan accordingly. Establishing a body similar to the Independent Monitoring Commission in Northern Ireland, comprised of host nation representatives and both military and non-military US agencies would ensure that political reconciliation measures enable security normalization, and vice versa. The United States should also track similar metrics incrementally to ensure barrier emplacement and removal are aligned with security conditions. Along with security normalization, the facilitation of community and sectarian cooperation must be pursued simultaneously. And there should be grassroots-level programs with bottom-up refinement from battlespace owners.
Lastly, while Northern Ireland makes clear the long-term commitment required to build political stability, the importance of unique cultural factors cannot be understated. It took nine years for security normalization to occur in a case in which both insurgent and counterinsurgent shared the same language and values, and peace walls only began to be phased out in 2016. Where such conditions don't exist, it could take significantly longer to successfully root out sectarianism and institute respect for the rule of law and democratic traditions—ostensibly the goals of US counterinsurgency strategy. Where we're unable to make a sufficiently long commitment, barriers will do more harm than good. Maj. Spencer's article demonstrates one view of the role that concrete can have on the battlefield. But the characterization of it as a powerful "weapon" in Iraq is false. It is more accurately described as a simple solution that ultimately ignored a slew of other consequences. Concrete is a useful tool when employed within a broader plan toward political reconciliation. On its own, it is more likely to exacerbate sectarianism and contribute to longer-term challenges to stability and security.
---
Tommy Daniel is a U.S. Army infantry officer currently studying Conflict Resolution in Divided Societies at Kings College London.
The views expressed herein are those of the author and not necessarily those of the Department of the Army, the Department of Defense, or any agency of the U.S. government.
© 2023 The Havok Journal
The Havok Journal welcomes re-posting of our original content as long as it is done in compliance with our Terms of Use.