In preparing for a potential article on support animals for veterans, I came across Emily Cline's thoughtful and well-written piece about fact vs. fiction when it came to emotional support animals right here in The Havok Journal. The context is important;  "emotional support animal" situation has gotten totally out of control in the United States, as claims of "emotional support" animals have nearly doubled since 2016. Because of the lack of understanding about the regulations governing genuine support and service animals, people are abusing the system in support of their pet of choice, particularly to get them to fly for free.
…and that reminded me of the time that Popeyes Chicken got into the "support animal" act.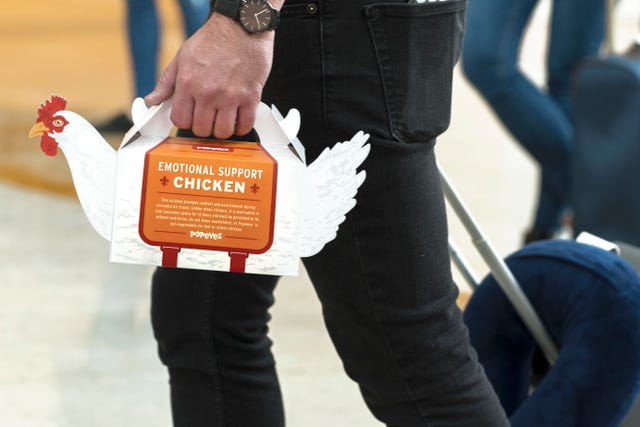 Back in 2018, the Popeyes Chicken restaurant in the Philadelphia Airport was offering its own version of "support animal," except that this one was deep-fried. The promotion coincided with Delta Airlines' announcement of restrictions on emotional support animals on their flights, and Popeyes' schtick was more or less that "this was one support animal that the airlines can't take away from you." This is what they had to say:
"We appreciate how comforting emotional support animals are and wanted to create our own version… The good news is that our emotional support chicken is permitted to fly without any restrictions – one less worry for busy travelers!"
Good on Popeyes for having a sense of humor, and for capitalizing on an emerging social phenomenon. I hope they sold a lot of (emotional support) chicken in this campaign.
________________________________
Scott Faith is a veteran of a half-dozen combat deployments and has served in several different Special Operations units over the course of his Army career. Scott's writing focuses largely on veterans' issues, but he is also a strong proponent of Constitutional rights and has a deep interest in politics. He often allows other veterans who request anonymity to publish their work under his byline. Scott welcomes story ideas and feedback on his articles and can be reached at havokjournal@havokmedia.com. 
As the Voice of the Veteran Community, The Havok Journal seeks to publish a variety of perspectives on a number of sensitive subjects. Unless specifically noted otherwise, nothing we publish is an official point of view of The Havok Journal or any part of the U.S. government.
© 2023 The Havok Journal
The Havok Journal welcomes re-posting of our original content as long as it is done in compliance with our Terms of Use.