How to Nurture Your Running Practice: Tips for Passionate Runners
by Amanda Jan
Any form of physical activity can be demanding. However, running is an activity that requires full-body engagement, and therefore, you need to keep up with some routine procedures even when you are not actively running. In this case, you could enjoy some health benefits of walking and keep up with your training plan.
You need to gather up stamina and endurance before the race and search for essential self-care tips for runners in order to stay on the right track and recover adequately. Stretching, yoga, aromatherapy, and many other ways to nurture your running practice can only make reach your goal more adequately. And here is how to do it.
Stretch out properly
To get the most out of your running results, you should look after your body and keep an eye on your overall health. To avoid any potential injuries or strains, you must stretch adequately before and after each training or run. Some of the following stretching workouts are proven to be most useful:
wide-leg forward fold

hamstring stretch

duck walks (to avoid shin splints)

runner's lodge
Get a good nights' sleep
Nothing beats sleep. Whenever you feel drained or overwhelmed, you need to take time to unwind and rest… and to disconnect. After strenuous running training, stretch, take a bath, unplug from all technology and try to relax and sleep uninterruptedly. Sleeping helps you recuperate after a long and demanding running practice, it helps you recharge and re-energize. Much of your fitness and strength gains are made in your down time, so find time to sleep in order to boost your performance.
Go to massage regularly
The more self-care you do, the better and faster will you recover after a tough training for marathon preparation. Going on a massage regularly will enable you to relax and get ready for the upcoming runner's challenges. If you cannot afford a weekly sports massage, try to do a self-massage by using a foam rolling or using a lacrosse ball to massage your quads, hamstring, calf, and feet. By doing a regular self-massage you will easily spot the potential aches and resolve them in short notice. For aching runner's feet, you can use a tennis ball and gently roll it across the sole of your foot.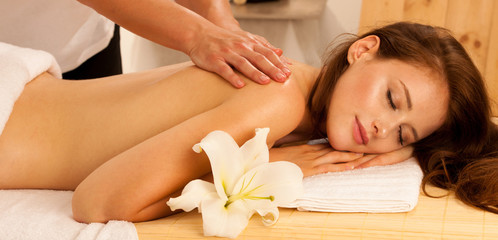 Indulge in a relaxing bath
One thing that will surely calm your muscles and help you recuperate after a demanding running practice is an Epsom salt bath. Epsom salt baths have become a booming trend these months with many athletes, and if you are a passionate runner with the aim to nurture your whole body to gain better performance, you need to take long and relaxing baths as often as possible. This really isn't a bad thing, isn't it? You only need to add four cups of Epsom salts to hot or warm water and soak forabout 20 minutes. The magnesium will help reduce the inflammation, relax your joints and muscles and improve muscle soreness.
Try out tasty and helpful recovery food
As it is quintessential to have a protein-enriched meal before your running practice, it is equally vital to have a proper rich meal afterward. A post-run meal should be rich in proteins to promote muscle growth and enhance recovery. It might be handy to always have a container of whey protein by your side, nevertheless, you can always make an enticing and nutritious smoothie. For a quick boost mix one banana, a handful of baby spinach, one tablespoon of chia seeds and pour either water or Greek yogurt. Quality food choices and drinking plenty of water will help your body running and repairing properly.
The bottom line
Always strive to nurture you running practice by keeping an eye on yourself. Don't go for crazy long runs if you feel your body isn't able to. Focus on what suits you best, stick with your running regime and tempo, and whenever you can close your eyes and take five, slow breaths.
_________________________
This first appeared in The Havok Journal September 15, 2019.
© 2020 The Havok Journal
Like this article? Like us on Facebook!
havokjournal@havokmedia.com
The Havok Journal welcomes re-posting of our original content as long as it is done in compliance with our Terms of Use.
© 2023 The Havok Journal
The Havok Journal welcomes re-posting of our original content as long as it is done in compliance with our Terms of Use.